Professional Claims Adjustment for Fire Damage in Florida
Even a small, accidental kitchen fire can cause a big headache. Perhaps it's a lightning strike, a careless cigarette or an encroaching wildfire. Suddenly, you're faced with strangers asking questions and inspecting your property. Dealing with city and county officials, your insurance company and the fire department is stressful and time-consuming. At the same time, you are required to act swiftly to diffuse the water, smoke, fire and extinguishing materials damage so they don't exacerbate.

Do yourself a favor and call The People's Choice. Our expert property damage professionals and skilled engineers will arrive quickly to assess the damage and help you get your claim filed and settled quickly. Our remediation team members and, as necessary, mold experts test for the potentially damaging toxin.

We will take you step by step through the fire recovery process. Our property damage experts will carefully inspect your property and recommend a plan to repair the damage and prevent complications such as mold growth and structural damage from the water used to extinguish the fire. We work closely with Florida's best fire and water damage restoration contractors to quickly mitigate smoke and water damage to the structure and contents. When necessary, mold experts are called in to test for the potentially damaging toxin.

After evaluating the damage caused by flame, smoke and water, your adjuster will review your insurance policy to determine coverage. Determining the "scope of loss" and analyzing your policy allows us determine how to move forward with your claim to get the maximum possible settlement.

If your residence or business is unlivable or workable, you may need to relocate while the damage is repaired. Did you know that your insurance policy covers "additional living expenses" like hotel accommodations, restaurant meals and dry cleaning that can all be claimed and covered? We'll help you sort out those issues, so you can get back to living your life.
Water Damage & Roof Leak Insurance Claims in South Florida
Sometimes a small leak can turn into a major headache and your insurance policy may or may not cover the leak depending on its source. The adjusters at The People's Choice are property damage experts with years of experience handling water damage issues regardless of the source.

Water damage can be caused by visible or hidden pipe breaks, pipe breaks below the slab, pipe bursts, shower pan leaks, broken pipes, backed up air conditioning lines, hot water heater line breaks, ice maker supply line breaks, overflowing shower, toilet or sink, among others. It can also result from roof leaks following severe storms.

These issues can lead to very costly damage to your property. When we inspect your property, we use sophisticated infrared technology to exactly determine the source of the leak, providing valuable claim evidence. Often we find damage your insurance company will miss.

Because the source of the water damage often determines whether or not your property is covered by your insurance, proper documentation is critical. In addition, repairing water damage successfully can be a monumental job. When water enters your property it can quickly destabilize the property's structural integrity and promote dangerous, toxic mold growth. Therefore, dry out is crucial to reduce its severity.

We work closely with professional, licensed water mitigation experts to restore your property quickly.

We understand that speed is of the essence in cases of water damage and we're available for emergency calls 24-7. Our property damage professionals will inspect your property and review your insurance coverage so you know exactly what to expect when filing your claim. Let us make the repair process easier by assisting with every step of the recovery process!
Claims Adjusting for Storm & Hurricane Damage
Florida residents are no strangers to tropical storms and hurricanes that can devastate your property. However, insurance carriers have modified their policies without a full explanation of what changes have taken place and how it affects your coverage.

Our adjusters understand your policy and can translate whether it only provides coverage for damage due to wind or also damage from torrential rain, flooding or storm surge.

The People's Choice is one of your best resources for quickly handling storm and hurricane damage. Call us immediately after the storm has passed. Our inspectors and engineers will provide a detailed assessment of the damage and handle all the paperwork to get your claim processed quickly to maximize your eventual settlement. Otherwise your claim may be denied, delayed, or minimized by the carrier.

In fact, an audit of Citizens Insurance storm claims shows that property owners using public adjusters received settlements up to seven times greater than property owners who handled the claim themselves.
Professional Claims Adjustment for Sinkhole Damage
Sinkholes can cause extensive property damage depending on their size and depth. Some swallow entire buildings; others leave a house or commercial property heavily damaged or uninhabitable.

Signs of a sinkhole include prominent cracks in your home's interior and exterior, or in the windows, doors, walls and ceilings. In addition, windows and doors may be difficult to close as they no longer fit properly in their frames. There might be depressions in the yard surrounded by dying vegetation, or a driveway or walkway with deep cracks. In other cases, water from the faucets may contain large amounts of sediment. There are even cases when homeowner see the ground opening up.

At the first real sign of a sink hole, it's important to contact The People's Choice Public Adjuster for a comprehensive damage assessment. In many cases, your insurance carrier will send a professional engineering team to drill into the ground and check the soil. These samples will be used to analyze the soil composition to determine whether there has been sinkhole activity. What's important to know is that these engineers work for the insurance company. As your representative, we secure the same reports from an objective provider.

The People's Choice works closely with you and your insurance company to get the damage repaired quickly. We can recommend professional construction and sinkhole damage remediation firms to guarantee you get the work done with superior service and an affordable price.
Get Help With Mold Claims
Mold resulting from flooding, a broken pipe or other water-related issue can severely affect your health and property without your knowledge. Here in Florida's warm, humid climate mold is particularly aggressive causing a variety of serious health issues. It is also your property's potential enemy since it can weaken the building's structure much as termites do.

Mold damage occurs in moist, dark areas of your home or commercial property. It can originate from a leaky pipe, excess humidity in your air or water resulting from storm damage or a simple water leak. As mold spreads, it releases spores that pollute the air and make their way into air ducts, triggering allergic reactions in sensitive people.

The source of the mold damage can determine whether or not your insurance company will pay for remediation or cover the damage at all. At The People's Choice, we work with professional remediation firms who take samples and perform mold testing along with mold remediation, as required. These sophisticated tests determine how much mold exists, what type it is and the potential impact of the problem. Without this extensive documentation, it is virtually impossible to secure a fair settlement from your insurance carrier.

Insurance companies have a vested interest in paying the least possible on any claim. This is particularly apparent with mold claims since carriers recognize that most homeowners don't possess the expertise to understand the source of the damage, its extent, potential repair costs, required documentation and their policy's hidden limitations.
Theft/Vandalism Damage Claims in South Florida
Imagine you've returned from a relaxing vacation only to find that intruders have entered your property, leaving behind significant building and contents damage. Or, that they've not only damaged your property but have also stolen thousands of dollars of valuables. Actually, this scenario could be a reality, and how it's handled will determine your insurance coverage.

When we meet with you, we'll need a list of missing or damaged articles. As far as damage to the property – broken windows and/or doors – leave that to us. We'll complete an inspection and prepare a comprehensive estimate of damage.

When someone breaks into your home, the feelings of fear and anger will take time to subside. While you heal, leave it to us to make sure your insurance carrier pays for the total cost of items broken, damaged or stolen resulting from a home invasion, vandalism or burglary.
What You Can Do
Have a fire plan for your home or business.

Get everyone out of and away from the property.

Do not secure the services of a remediation company until you call us. Many of these companies "chase" fires and may attempt to secure authorization for costly, unnecessary work.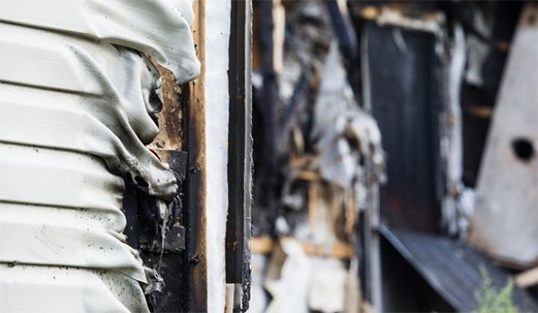 Call The People's Choice Public Adjuster to ensure you get the settlement you deserve, not what the insurance company thinks you need! 561.295.9020